River Information
These are the bodies of water we are currently offering guide trips for with the Mississippi River in Red Wing, MN being our home water.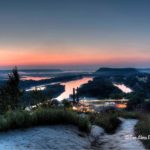 The Pools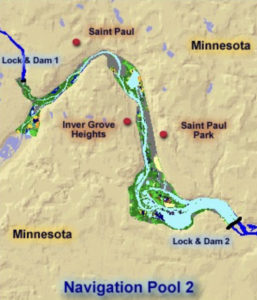 Pool 2) St. Paul, MN is the upper portion of the Mississippi River we fish that is famous for trophy size Walleyes and Saugers.  This is due to the 100% catch and release restrictions.  It is not uncommon to land multiple Walleyes between that 8#-10# mark on a single trip, with many between 4#-6#.  You always have a shot at that true big Ma Ma up here.  This can be an excellent choice in the spring, summer and fall.  The pine studded riverbanks along the northern end of this pool almost give you a feeling that you are way up north, deep in the woods (minus the mosquitoes) when in reality you're right close to home in the middle of the Metro.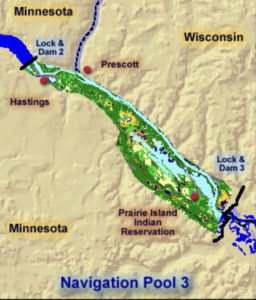 Pool 3) Hastings, MN is a very unique pool.  Approximately 18 miles long with lots of fishing opportunities to offer – such as, the St. Croix River, back slues, cuts and many wing dams, day markers, rip rap, etc.  I find myself fishing this pool during the spring, summer and fall.  It's a wing dam fisherman's dream.  Out of all the pools I fish, I feel like this one gets the least amount of fishing pressure.  For some reason, everyone thinks the world ends in Red Wing at Lock and Dam 3 which is a good thing.  Pool 3 is a diamond in the ruff!!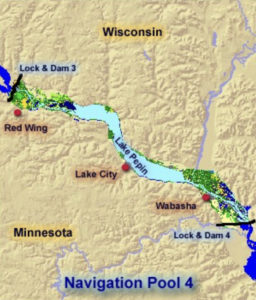 Pool 4) Red Wing, MN is in a class of its own and is hands down my favorite pool of them all.  It connects to Lake Pepin which is roughly 23 miles long, with 12 miles of river below and above Lake Pepin.  This makes Pool 4 a total of 47 miles long.  A Walleye fishing paradise from Lock and Dam Number 3 down to Lock and Dam Number 4, Lake Pepin is a trollers dream. There are many 12'-20' breaks that run for miles, providing different fishing opportunities.  Everyone is always doing something different.  There's the lake, the Wisconsin back channel, slues and cuts, loads of wing dams in the lower stretch by Wabasha and many more on the upper stretch by Red Wing.  In addition, closing dams, miles of rip rap, Hay Creek, Cannon River, Vermillion River, Rush River and more (just to name a few) dump into Pool 4.  This is the pool where I do most of my guiding and cut my teeth learning the river. With so much structure, this pool is a river fisherman's dream come true.  There's a power plant above Lock and Dam #3, with a warm water discharge on the lower stretch of Pool 3 that keeps the upper end of Pool 4 open all winter.  So, you can get out and enjoy fishing from a boat all winter if old man winter throws some warmer temperatures.  Our friends at Everts Resort out of Hager City, Wisconsin, do a great job keeping the ramps open and cleaned all winter long for the public to use.  There is also a ramp on the Wisconsin back channel that stays open year-round.  In my opinion, this pool is the most unique for its amazing size, quality, and quantity of all fish species.  This is one of the greatest stretches in the entire Mississippi River system for Walleye numbers and their size.  It's no secret why Pool 4 keeps producing some of the biggest Walleyes and Saugers in the State of Minnesota which definitely makes this stretch of the river a World Class fishery in many different ways.