A few words from the Captain...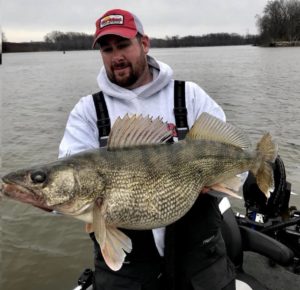 Hi, I'm Josh Wetzstein and I love the outdoors with a passion!  I grew up fishing the muddy riverbanks of the Mississippi River, trout fishing local streams and the rest of the great land of 10,000 lakes in Minnesota.  With all the water I've been on over the years, I believe the Mississippi River has the most to offer.
As a young boy, I spent a good part of my life hunting, fishing, camping, coon hunting, hiking, wading in creeks and trapping fur every chance I was given.  I also worked on dairy and beef farms as a kid, where I quickly learned what hard work was. But I just loved being outdoors, enjoying what the good Lord created for us.
Now, I'm a grown man who shares that love and passion with a wonderful family, friends, and clients.  I'm married to a beautiful woman named (Samantha) and we have one beautiful daughter together named (Kyleigh), plus a Springer Spaniel named Willis "Walleye" Wetzstein.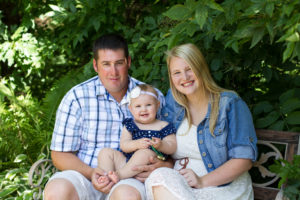 Although I've grown older, I still giggle and feel just like a kid every time I set the hook.  It's easy these days to get stuck indoors and focus on the electronic devices that seem to run our lives now.  I admit I have them too, but if I could have it my way I would go back in time and slow down this fast-paced world we live in today.
Fishing is a great way to escape the fast lane in life, just slow things down and clear your mind.  The minute the boat is launched into the water and we pull away from the dock, all of life's problems are left on that dock for the day.  Between my family life and Guiding on the River, I can honestly say that I am "living the dream" that I thought would never be possible.  There are easier ways to make a living in life, but this profession allows me to do what I love – fishing and being in the great outdoors and there's nothing I would rather be doing.
About Your Guide "Captain Josh"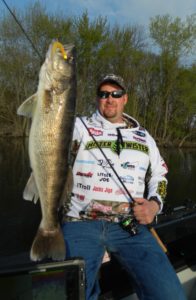 Josh has been featured in magazines such as the "In Fishermen Walleye Guide" Magazine that recognized him for his trophy Walleye and Sauger catches and his River fishing expertise.  He has also been in Target Walleye and many other social media articles recognized for his Mississippi River fishing skills in Red Wing, Minnesota.  In addition, he is on the cover of the 2020 Mister Twister Catalog with the plastic ring worm as they sought Josh out to help develop their new color patterns and profiles for their new Walleye lineup for the upper Midwest.  He also works very closely with many other leading companies in the fishing industry.
Josh also does a lot of his own tackle crafting with Do-it Molds. The River is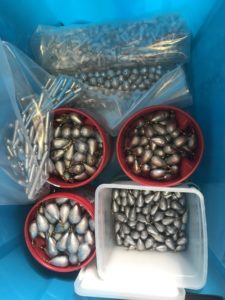 hungry and is always gobbling up tackle – that's just the nature of the beast, so he pours almost all of his jigs and sinkers during his down time in the winter.
Landing the next big fish is always on the top of Josh's mind and something he strives for.  Despite the trophies he's landed over the years, Captain Josh has a way of making you feel like your fish is not "just another fish" whether it's a big pre-spawn Walleye or a long, lean post-spawn Walleye.  Josh gets just as excited (if not more excited) watching his clients and friends land fish as he does when he catches them himself.  "We are a team and I am the Captain. There is nothing better than watching it all happen, oh so fast, placing the net under the client's trophy fish and lifting it out of the water over the gunnel of the boat.  Seeing all the joy, laughter and excitement unfold, high fives, hugs and handshakes shortly to follow.  When grown adults get so excited that they start acting like young children again for a short period of time – jumping around yelling and screaming, that's when I know I've done my job and they've gotten their money's worth!!  It's very rewarding to see people's progress throughout the day on the water and to prove to them that they can accomplish anything.  There is one word in our boat that clients are not allowed to say and that is 'CAN'T'!
In all honesty these big Walleyes are very challenging to catch, and they don't come easy.  If it were easy, everyone would catch them! They take lots of focus, patience, skill, and some hard paid dues "time on the water".  Last, but not least, they take a bit of luck.  You usually only get one shot at a big Walleye when it comes top side on the surface.  One big head shake or one roll in the current and it's all over if the fish isn't hooked just perfect.  I will do my best to put the net under the fish of your dreams and these are skills we will teach you by the days end.
We're not going to waste your time or money. If the conditions are not right and the bite isn't on, we will let you know and reschedule the trip if the conditions are not looking good.  Your success is our goal.  Whether you're looking for a big trophy Walleye to put on the wall, or a nice stringer of river gold to take back to the dinner table or a shore lunch, either way we have you covered.  Although we do promote "catch, photo and release" on the big females and recommend getting a replica made if desired.  But at the end of the day it's your trophy and we are perfectly fine with whatever decision you make.  As you can see, we simply just want our customers happy at the end of the day!"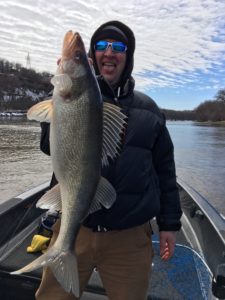 Josh is keen to your preferences and will work tirelessly to accommodate your needs.  He has guided fishing pros, kids, elderly people, fishing novices, and weekend warriors - fishermen/women, families just looking for a fishing guide. Josh will do his best to take care of all your angling needs.  He can adjust quickly to any fishing situation in order to give his clients the best fishing experience possible.