Minnesota Residents.  You must purchase a Minnesota fishing license if you are older than 16.  Annual licenses allow you to fish from March 1 to the last day of February the following year.  Seniors who are over 90 years of age and who are Minnesota residents do not need to purchase a fishing license.  Lower cost licenses are also available for shorter time periods.  Please visit the Minnesota DNR website for more information.  Minnesota DNR Website
Wisconsin Residents.  You must purchase a Wisconsin fishing license if you are 16 years or older.  If you are in the U.S. Armed Forces on active duty, on furlough, or on leave – you may obtain a free fishing license by presenting your military ID and leave papers at any license agent.  Wisconsin residents born before Jan. 1, 1927, do not need to purchase a fishing license.  A variety of other low-cost licensee options are available as well.  Please visit the Wisconsin DNR website for more information.  Wisconsin DNR website.
A few days prior to your trip, Captain Josh will call you to discuss any last-minute trip details - such as what river pool we will be fishing and the departure location.  We will also establish a game plan for your fishing trip.
Cancellation Policy.  Deposits are non-refundable unless the fishing trip is canceled by Muddy Waters Guide Service due to bad weather or unforeseen mechanical boat problems.  Your Captain will make the final decision regarding bad weather, lightning or high water, wind, etc.  Your safety is our number one priority.  There are no fish worth dying over.  All other cancellations forfeit the deposit.  However, if you need to cancel your trip, we can discuss rebooking providing the schedule is open and allows for it.  Please keep in mind, this is not always an option.  But we will try to work with you as much as possible.
Our Gear
We will be fishing out of our premium Glass 2090 Warrior "BIG TILLER" to give you the ultimate fishing experience with enough room to square dance in.  It's no mistake that this "Big Tiller" is by far the most popular boat used by most walleye guides in the upper Midwest because of its size, storage, and the ability to fish with multiple anglers.  The boat's control is second to none, with the quick response of a tiller, not to mention the big deep hull these boats are so very well known for, they are designed to run away from any storm in the roughest conditions.  We can easily accommodate 4 anglers in this battleship. For your convenience and comfort, we have also installed upgraded tempress seats.
Welcome to our Office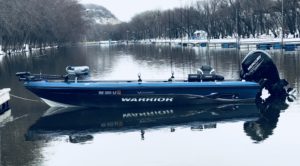 We depend on Lowrance electronics with side and down scan for locating fish and we are pulled up stream by a 36v motor guide xi5 bow mount trolling motor with pin point GPS to keep us on track and locked in on our best fishing spots all day, even in the heaviest current.  With the aid of a 9.9 Mercury 4-stroke pro kicker we can help push the boat up stream while the bow mount does the steering.  We call this "trolling in 4-wheel drive" and it significantly saves on the Interstate batteries.  The kicker also serves as a great backup motor if the main engine ever fails. Another safety feature to get us back to shore.
The boat is powered by a bulletproof Mercury 150 4-stroke outboard, with "Big Tiller" power assisted steering for running from spot to spot.  We have also installed Powrtran pro tabs "trim tabs" to level out the boat and keep you dry and to give you the feeling of a smoother ride while running in rough waters.
"We keep the ship tight" meaning everything will be clean and organized prior to each guide trip.  Floors, seats and live wells will be scrubbed and sanitized and carpets will be vacuumed.  All Coast Guard regulated safety equipment and devices are in place and inspected routinely for your safety and satisfaction.
At Muddy Waters Guide Service we use the best fishing equipment the industry has to offer and it will be provided for your fishing adventure.  Our services include high quality made in the USA St. Croix fishing rods and reel combos that will be pre-rigged and ready to use before your arrival, along with helpful tips and tricks to help you catch more and bigger fish.  We will be rigged up with the latest and greatest fish producing tackle and live bait.  We also have thousands of pre-tied river rigs that we tie up in the winter so that we can be more efficient with our clients on the water if tangles or snags occur.
We strive to make your fishing experience with us as hassle free and stress free as possible.  We are here to serve all your angling needs.
What You Will Need to Bring.  To make your day on the water even more enjoyable you will need to bring the following items:
Sunscreen
Hat
Sunglasses
Rain Gear and warm clothes are always recommended.
Large enough cooler to transport your catch home!
Your favorite snack and beverages
A current Minnesota or Wisconsin Fishing License
We suggest if you have younger children 12 years or less and they have a life jacket you prefer them to wear, that they bring it along. Although we do have life jackets that will fit all ages.
Please be reasonable with the amount of gear you bring along.
Last but not least – bring a smile!
We will provide the rest and also take photos of your catch that we will e-mail or text to you after the trip so that your memories will last a lifetime!