A little about us...
Here at Muddy Waters Guide Service we don't sell guide trips, we sell memories and relaxation with friends and family, along with the experience and knowledge gained, that you will carry with you for the rest of your life and that's something you can not put a price tag on!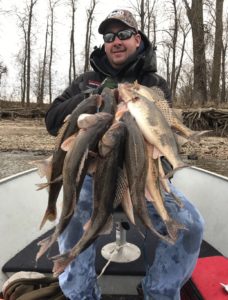 Come take a ride down the Majestic Mississippi River and see for yourself all the beauty it has to offer.  From bald eagles soaring over the skies to the beavers and muskrats swimming down the lazy river.  The banks hold all kinds of wildlife, deer, turkeys, birds, etc.  The fishing is just a bonus because the scenery and wildlife are absolutely breathtaking.  From the snow/frost covered trees along the river banks and bluffs in the winter, to the colored leaves dropping into the river in the fall, to the summer sail boats on Lake Pepin and those docked in the harbor. Then there's the beautiful train that runs up and down the shorelines and banks of the Mississippi, along with the mirror painted boat house – reflections on the water at Bay Point Park and the big river boats docked at Ole Miss Marina – this historical destination in Red Wing, Minnesota has so much to offer.  There is nothing like spending time on the water with family and friends.
We also own and operate Muddy Waters Eagle Tours on the Mississippi River town of Red Wing, Minnesota, which is in a class of its own with all the history, sights and scenery it offers.  Come along and join us while we float down the lazy river with so many places we can take you. Depending on water levels, we can float down the Wisconsin back Channel then slowly motor our way back up the river deep into the beautiful Vermillion River and under the old railroad bridge.  Lake Pepin is another option. There are so many possibilities in this robust area, with so many Eagle's nests and wildlife along the banks of the Mississippi that you just can't see from shore.  We will get you in very close proximity of the Eagles for your viewing pleasure or photography.
We pride ourselves on being professional, knowledgeable, and of course experienced and friendly.  We will work endlessly to put a smile on your face and a fish on the end of your line to make each and every trip a memorable success.
We are committed to making your trip both fun and educational.  Let us customize a trip to fit your needs whether you are an experienced angler or just a beginner, we have many different presentations to tailor your fishing needs.  This trip is not about us, it is about you!!
Weather you are in town on business or pleasure, or a local native just looking for a great day out on the water, look no further and book a trip with Muddy Waters today.
Muddy Waters Guide Service is insured and operated by Licensed US Coast Guard Captain Josh Wetzstein.  Come book a trip with a professional guide today and let your adventure begin.
We cater to fishermen/women, corporate outings, family vacationers, serious anglers and couples.  These trips are also perfect for entertaining clients or employees.  We also offer gift certificates for that special person you would like to see get out and enjoy a day in the great outdoors.  Gift cards are also available for those who are interested.
We also have a customer on-call list for clients in the area with a daily open schedule who would like a call if our schedule is open and we are on a good bite! Some of these bite windows are very short and it's like we need to be there now in order to take advantage of a good bite because they don't last forever.
Please take a moment and navigate over to Muddy Waters Photo Gallery and see for yourself what this world class fishery has in store for you.
Reserve your spot today or gather additional information by calling (507) 202-2222